Hello, Mi Fans!MIUI developed by Xiaomi Tech. is a stock and aftermarket firmware for smartphones and tablets based on an Android operating system. MIUI the very first product of Xiaomi is loved by more than 300 Million Users Globally. MIUI pronounced as 'Me You I' is catering a Healthy & Easy User Interface on the Android Platform. It is one of the top-ranked Custom ROMs loved by tech geeks all over the Globe.
On 10th May 2016 at Mi Max Launch our CEO Lei Jun revealed that there are more than 200 Million MIUI users Worldwide. MIUI was released on 16th August 2010 with its initial beta version 0.8.16. A special team of 100 Beta Testers was formed to try its very first version. These 100 Beta Testers are honored as "One Hundred Dream Sponsors" of MIUI.In the recent World Internet Conference in Wuzhen fresh statistics and figures were revealed by Lei Jun, this weekend.




At the moment, MIUI has over 300 Million active users Globally!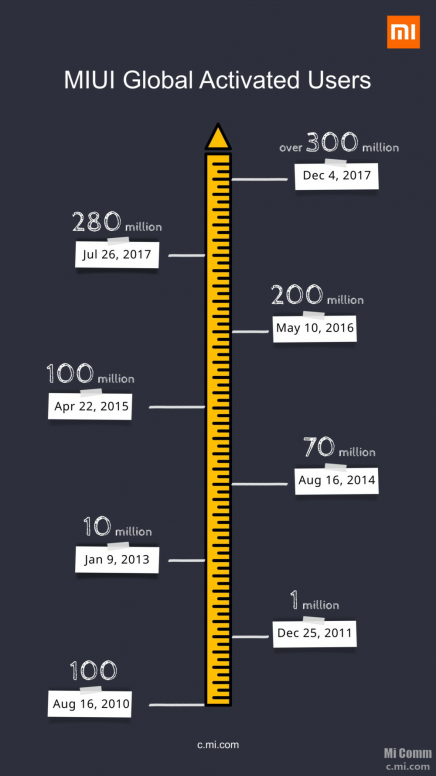 That is a wonderful accomplishment considering we're only a youthful organization contrasted with contenders.The Lightning Fast MIUI 9 released this year has taken up the new Android User Interface totally to a New Stage. It sustains its Slogan Lightning Fast by offering a great user experience in terms of smoothness, stability, better battery backup and always improving with the help of millions of Mi Fans. Xiaomi has a very loyal following as result of the customer feedback consistently driving the development of the company's products. Currently, the latest version is MIUI 9, as known as the 'lightning fast' system. Xiaomi is
always making improvements for MIUI, in order to better meet the demand of our users
and thrives to make unique experiences in areas of user stability, smoothness, battery
improvement, and so much more.
So, Mi Fans, you're always welcome to check out our most recent MIUI updates right
here, including preview changelog and final changelog & download links every week!
Stay tuned!



Show your Affection towards MIUI,Let us know the MIUI version you started your journey with?

Or drop a comment to say 3 things you love MIUI the most?

AND…..

Receive a SPECIAL "300M MIUI" MEDAL before December 12, 2017.




Рейтинг